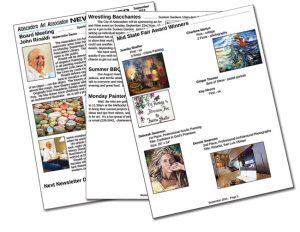 It is always exciting to see your name in print – unless you are wanted by the law I suppose.
Today both Dennis and I were recognized for artwork that we produced this past year. The Atascadero Art Association's September Newsletter graciously announced our wins at the California Mid-State Fair this past summer.
You can read their newsletter here: Atascadero Art Association Newsletter
We count it a privilege to be a part of our local art association and to be involved in our local community events as much as possible.
Deborah Swanson is a graphic designer, art teacher, and the author of Drawing on History – an interactive art history curriculum for Jr. High and High School students. Dennis Swanson is a full-time photographer dividing his time between portraiture, weddings, and architectural photography. Both Dennis and Deborah own Studio 101 West and KnoodleU in Atascadero, CA.