Why is Homeschool Art So Important?
Do I Have to Do Art With My Kids?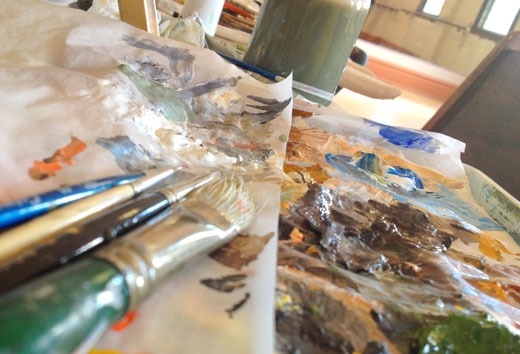 If art is the last thing you want do with your kids you might want to rethink your school curriculum. I know what you're thinking – it's messy and I don't have a clue about it! Most of my friends sent their kids to my house to do art because I didn't mind the mess. I happen to love the creative process, even though it does tend to make a mess. But what I love the most is when I see the "light" go on. When that happens you just have to forget about the mess.
What you may not realize is that an art-rich education actually helps your student in most of the other academic areas and can cause them to be more engaged in areas that they are not interested in. That was my primary reason for writing Drawing on History. I knew that if I could engage high school students in art, I could engage them in the history that took place during the same time period. And it worked, even for my homeschool students who weren't inclined to do art.
Recently the Arts Education Partnership conducted a study which showed that an art-rich education:
Boosts literacy and English Language Arts
Advances math achievement
Engages students in school and motivates them to learn
Develops critical thinking
Improves school culture
But an art-rich education has many more benefits than just getting them to study history. It has been proven that the arts help prepare students for success in the work place too . . . READ MORE ON OUR BLOG »
---
What the Heck is KnoodleU?

KnoodleU™ (ka-noodle-u): a fictitious place, an action, or an idea; primarily to use your brain (your noodle) in order to create art and express yourself without limits — Learning without limits
A School, A Publishing Company, A Source for Inspiration. Art may be one of the hardest subjects to teach your student if you think you are not very creative or know nothing about it.
Many people tell us that art is the subject they leave until everything else is done and then, of course, it never happens. The problem with this approach is that they miss a very important subject which every student needs to experience. Art gives us all a place to express ourselves, to learn communication through a visual medium, and the ability to understand the past by studying other artists.
KnoodleU™ and Drawing on History will give you the tools and the resources to teach art to your students without needing to be an artist yourself.
Buy the book NOW
FABULOUS REVIEWS:
The course is clearly and simply laid out without being overwhelming. . . The Guiding Research Questions take the study beyond what other authors have done and raise this to high school level. Students will need to complete research in other sources to find answers to some of the questions. . .READ MORE»

Cathy Duffy, Cathy Duffy Reviews
---
Just so you know – I'm not particularly an art person. However, I do like to understand the interrelationships between historical events and culture. This book bridges an amazing gap – historical events and art history. . . Not to mention the insights it provides into the people and places covered in the history course. This not-particularly-an-art-person is totally impressed! . . .READ MORE»

Janice, Rainbow Resources